Successful people invest in their education, development and motivation, knowing that these are the tools to success – Grant CardoneWith
With enthusiasm, high-energy and humor, The Healing Conversationalist makes your learning fun while giving you comprehensive instructions that sticks. Here are our programs.
We're good at what we do. If you want thorough, factually-supported, detailed training delivered by a knowledgeable and charismatic trainer, click the link below to request training.
Whether you're looking to:
Improve workplace mental wellness and keep good people (Twelve billion working days are lost every year to depression and anxiety alone.)
Increase awareness in your faith community, make it okay to talk about depression and suicide, and get people help
Help students, faculty, or other staff learn to manage anxiety and depression, navigate a mental health crisis, or get mental health resources, we can help.
Whatever industry you're in or people you serve, without effective support, mental health challenges can affect a person's confidence and identity, impair one's ability to work productively, increase isolation, and lower the quality of life for anyone who suffers. Click to view a list of topics and schedule hour long Lunch and Learn or other mental health training.
Mental Health First Aid is a public education program that teaches participants how to recognize and respond to the signs of a mental health challenge. With a focus on helping adults, the course content is evidence-based, and evaluation studies have demonstrated that the course is effective. It is a federally-recognized program steeped in research and evaluation, and carries a three-year national certification once the course is completed.
Take a look at the flier below and even download a copy by clicking the down arrow to the right of the menu bar
Much like Adult Mental Health First Aid, the youth version is for adults who work with youth and adolescents. It shows participants how to recognize the signs and symptoms of a mental health challenge or crisis and how to help. Using a model called ALGEE, participants learn warning signs, words to use to open up a conversation, how to listen non-judgmentally, how to give reassurance and much more. This course is federally-recognized and carries with it a three-year national certification.
Take a look at the flier below and even download a copy by clicking the down arrow to the right of the menu bar
Since 2015, suicide rates have increased dramatically, with slight variations during the COVID-19 pandemic. It is a public health crisis. Many of us don't know what to say or how to help someone who is having suicidal thoughts or talking like they want to end their lives. Take this 90-minute course to gain the skills to intervene and help save a life. Learn how to ask the "S" question and follow proven steps to get the person help.
Take a look at the flier below and even download a copy by clicking the down arrow to the right of the menu bar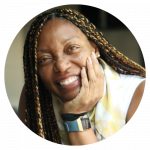 As a person diagnosed with a serious mental illness 27 years ago, Ms. Robinson draws from her rich experiences with psychosis, anxiety, depression, dissociation, and trauma inspiring others to see mental illness in a new, fascinating light. As a national trainer for the National Alliance on Mental Illness (NAMI) for 19 years, Ms. Robinson has a deep appreciation for people's curiosity. She engages humor, storytelling, and interaction, so people take away memorable moments from the colorful nuggets of wisdom she has to share. She enjoys an exceptional reputation as a gifted and knowledgeable trainer, and her commitment to teaching mental wellness is exceedingly evident in her passion and charisma.
Ms. Robinson has several national mental health instructor certifications including Mental Health First Aid and QPR Suicide Prevention. She is a certified spiritual coach, a pre-med student, and is Founder & CEO of The Healing Conversationalist, LLC, which is focused on healing the world mentally, emotionally, and spiritually through inspirational speaking, training, and coaching.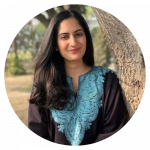 Yasmin Irfani is a Pakistani Muslim American currently serving as Program Manager at the Multi Ethnic Collaborative of Community Agencies (MECCA) in Southern California. She received her M.S in College Counseling & Student Services in 2019 and has been working in the non-profit world since. She has served as Youth Programs Director at NAMI (National Alliance on Mental Illness) in San Fernando Valley. Yasmin is a certified instructor for Adult and Youth Mental Health First Aid through the National Council for Mental Wellbeing. She is also a QPR Suicide Prevention Trainer where she certifies community members and empowers them to lean into the difficult conversations about suicide. A couple of her favorite topics to facilitate are self compassion and social emotional learning for young people.